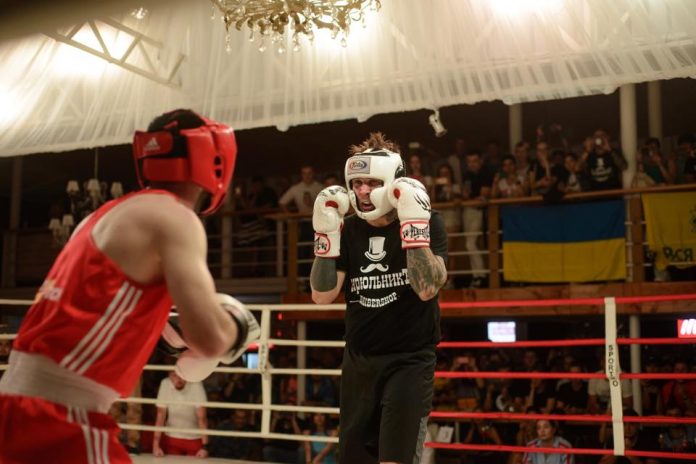 This post is also available in: Ukrainian
Project "Battle. Season 1" is a battle with the boxing and MMA rules among media personalities.
Media personalities in concert dresses and strict suits, with the perfect hairdressing and brilliant smiles in the live broadcast of the TV channels, will leave behind their business, tours and snatches, and tune in to everyday training with the best trainers of Ukraine, so that on June the 9th, to stand in front of each other in the ring!
Evening program:
Alexander Yarmak VS Nikita Vnuk
Anna Dobrydneva VS Maurina Skrypnyk
Grigory German VS Gennady Popenko
Andrey Osadchuk VS Alexander Pavlyk
Maria Berkut VS Dj Natasha Rostova
A bit about the participants;

🔸 Gennady Popenko – famous showman, television presenter, actor;

🔸 Andrey Osadchuk – singer, the Voice participant, the author of hits for Svetlana Loboda, Vitaly Kozlovsky, Ani Lorak and many other performers;

🔸 Natasha Rostova – DJ, resident of Kiss FM radio station, House Doctor project;

🔸 Alexander Pavlyk – performer, composer, finalist of the show "X-Factor" and a professional athlete;

🔸 Gregory Herman – famous showman, TV presenter;

🔸 Maria Berkut – actress, model, TV presenter;

🔸 Marina Skrypnyk – a popular Ukrainian PR specialist, adviser to the Deputy Minister of Infrastructure of Ukraine;

🔸 Anna Dobrydneva is a solo singer, songwriter, TV presenter, as well as a permanent soloist of the "Pair of Normal" group, the nominee of the "Viva! The most beautiful of 2018. "

🔸 Vnuk – rapper;

🔸 Yarmak – a rapper.