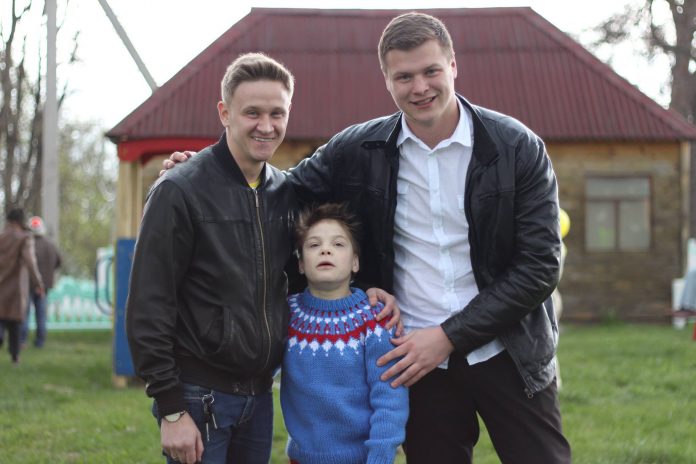 This post is also available in: Ukrainian
The Charitable Foundation "To the Heart" together with the NGO "All Ukraine", as well as Big "Happiness" of a little child visited the Pugachev orphanage!
We succeeded with the help of our friends and partners, such as: Victoria Bulitko, Tadeush Muratov, Levon Petrosian, Evgeny Kozik, Andrey Kolesnichenko, Michael Vengerski, Alexander Gorobets, Anastasia Landysheva, )Ruslan Cherchik, Diesel Shaw, Ivan Dankovich, Irisha Aml, Serega Volk, ИInna Nysa, Anna Avramenko, Taras Gorkun…
we managed to organize transportation, fruits, juices, entertainment events, balloons, helium, manicure sets, cookies, candy, waffles and much more. Most importantly, it was transferred to an orphanage, where 83 girls with severe diseases live with 5 LED screens to start a rehabilitation program!
Special thanks to the dental clinic Ukrselt, and two specialists who took the time and came to examine the teeth. Ilya Servinsky и Olya Servinskaya. We managed to carry out a detailed analysis of 18 girls, which will allow us to further begin dental treatment, prosthetics and other activities regarding treatment.
We were also pleased with the presence of barbers from Frisor barbershop, who cut our beauties, and thus reminded them that they are girls who love beauty and grooming. The guys spent the whole day of their time and dedicated themselves to them! We thank Dmitry Olegovich Verkhovetsky the founder of this Barbershop, as well as See Jay  and everyone who helps with us!
Of course, we thanks to Pavel Shevchenko – this is the heart of our trip, we thank for the organization of turnkey transport with the full support of GO "Nobody except us", as well as for the fact that we have the opportunity to learn from the experience and kindness of Paul!
We congratulate the team of our foundation Anna Razumova, Evgeniy Razumov и Darina Mininberg with another little success and victory, we are very glad that we are becoming useful and children are waiting for us in boarding schools! We thank the boarding director Lesya Petrenko and her deputy Maya Korzun, who always meet us with impatience and a pure heart, for their work and work!